Radiation therapy plays an essential role in the management of triple negative breast cancer (TNBC). It reduces the risk of recurrence and death. The risk of damage to the heart caused by radiation exposure limits some of these benefits. But today, there are several advances in the field of radiation therapy that make it safer. These techniques have made it possible to deliver radiation to the breast and safely spare the heart. They include partial breast radiation therapy, deep inspiratory breath holding techniques, and prone positioning.
Heart Sparing Breast Cancer Radiation in
Triple Negative
The first technique is Partial Breast Radiation Therapy , or APBI (accelerated partial breast radiation). It allows selected patients to receive radiation only to the part of the breast where the cancer was located. Thus, by treating a smaller area, there is much less radiation to the heart and lung. Typically, radiation is completed in 3 weeks or less. APBI is delivered either with brachytherapy (internal radiation therapy), or with external beam radiation techniques.
Deep inspiratory breath hold (DIBH): This is a technique where patients voluntarily take a deep breath and hold it while the radiation is delivered. Patients typically hold their breath for about 20 to 30 seconds. As the lungs fill with air, the heart moves away from the radiation treatment area. We use specialized devices to help the patient hold her breath. They also verify the heart is in the optimal position to spare it.
Prone Positioning in Triple Negative Breast Cancer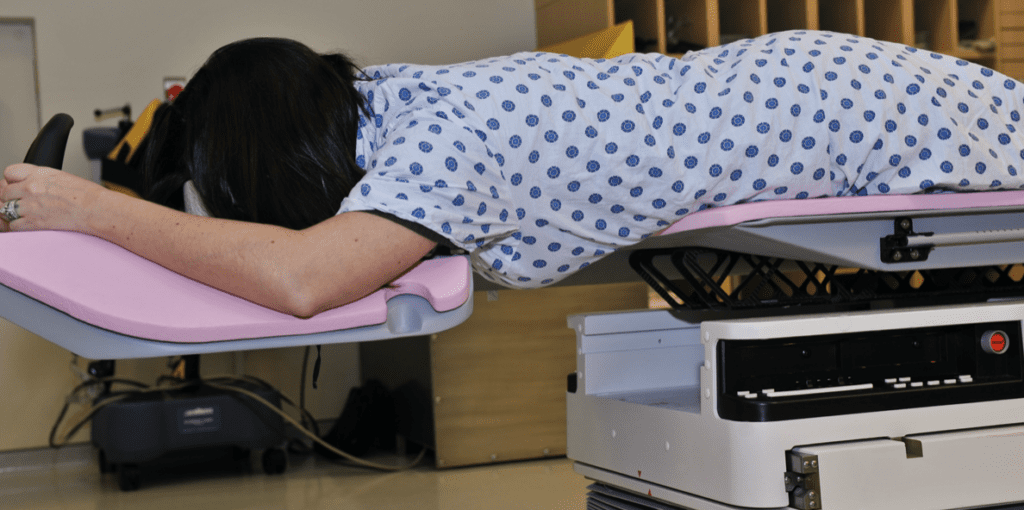 The third advance is Prone Positioning. This technique delivers radiation therapy to the breast while the patient is lying on her stomach. We comfortably position patients on a specially-designed table that allows the breast to hang away from the body. This allows us to safely deliver radiation to the breast, while minimizing exposure to the heart and lungs.
In conclusion, any one of these techniques, or a combination, can significantly reduce the chance of damage to the heart while maintaining the benefits that radiation therapy offers in the treatment of breast cancer. When dealing with Triple Negative Breast Cancer we want the patient to have every advantage we can think of. Talk to your radiation oncologist to help explore which option might work best for you.