COVID-19 and TNBC treatment brought many challenges to the care of patients. Doctors and patients had to deal with travel restrictions, limitations on elective surgery and outpatient office care. This became particularly problematic for diseases that are more aggressive as is small cell lung cancer, leukemias and lymphomas. We consider Triple negative breast cancer in this category. Treatment depends on surgery, immunotherapy and chemotherapy without options such as hormone therapy. Unfortunately, these challenges are still being felt in many parts of the US and other parts of the world.
COVID-19 Guidelines
The oncology community treating COVID-19 and TNBC patients is guided by 2 publications:
"Pandemic Planning Clinical Guidelines for Patients with Cancer" by the Ontario Health, Cancer Care Ontario published March 23, 2020
The American Society of Breast Surgeons "Recommendations for Prioritization, Treatment and Triage of Breast Cancer Patients During the COVID-19 Pandemic
Representatives from multiple cancer care organizations drafted the latter publication. They had expertise in the multidisciplinary management of breast diseases. It was to set the stage for the appropriate care of patients with a variety of breast cancers. It took into account regional and institutional variations in COVID-19 prevalence and resources.
The guidelines focused on outpatient visits, limited imaging of breast diseases, surgical intervention and systemic therapy like chemotherapy and immunotherapy. 
The American Society of Breast Surgeons document largely put imaging on hold. Exceptions for biopsies of abnormal mammograms or evaluation of breast symptoms were allowed.
How to treat TNBC during COVID-19
COVID-19 and TNBC patients needing adjuvant and neoadjuvant chemotherapy was considered Priority A and allowed to proceed. It was encouraged to modify chemotherapy schedules as appropriate in order to reduce office visits. This reduced the risk to the individual patient as well as other patients and staff. The treating team had the option to proceed with surgery first if it saw fit. Local resources and the risk of depressing the immune system due to chemotherapy or immunotherapy guided those decisions.
Prior to COVID-19, patients with tumors larger than 2 cm or with lymph node metastases we considered for neoadjuvant chemotherapy. It was also considered when down-staging with chemotherapy would facilitate breast conservation due to tumor size relative to breast size. This algorithm changed during the COVID-19 era. Tumors larger than 5 or 6 mm were now considered for neoadjuvant chemotherapy while other recommendations remained the same. The goal was to avoid treatment delays while adhering to the limitations imposed by the restrictions on elective surgeries. Patient age, additional diseases and other factors needed to be considered in this decision making process.
Patient and Family Challenges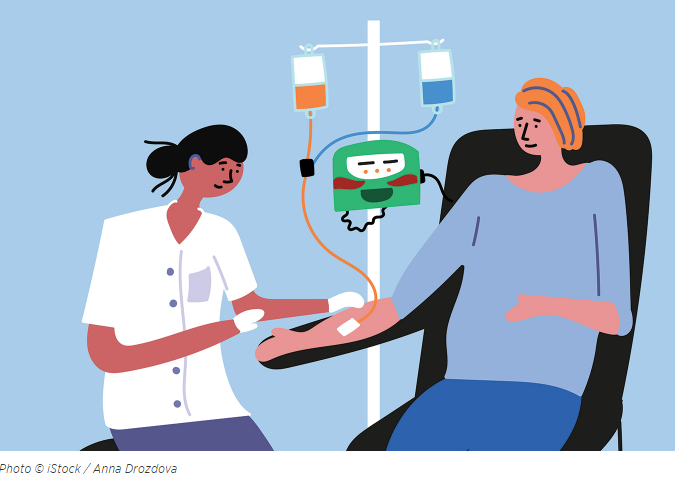 At our institution, as at many others, all of this involved extensive communication between team members (breast imaging, radiation oncology, surgery and medical oncology) and relied on the support of the patient navigation team and nursing. Safeguards were put in place at every entry point into the system. Visitors were restricted across the institution and were screening for travel, symptoms of COVID-19, and exposure to affected individuals. Later, as testing became available, COVID-19 testing was performed prior to the start of chemotherapy, radiation or any planned surgical intervention. These processes added significant challenges to the coordination of care for each patient. Doctors were thus able to ensure the safety of the individual patient, the other patients in the cancer center and the cancer center staff.
The resilience of patients and families throughout this was extraordinary. Family members could not accompany the patient to their outpatient visits, chemotherapy or surgery. The use of Facetime and other phone modalities to involve the family became routine. Support services such as integrative medicine modalities and support groups, Yoga and meditation turned into web-based programs. Each team member did more, called more and communicated more. So far, excellent care has been provided to all; as our elective surgeries have resumed with the decline of COVID 19 numbers, we are returning to normal. Will new restrictions recur …?
Results of treatment
The data that is coming to publication is reassuring. A recent publication from the Lancet reports on the outcome of 800 patients with symptomatic COVID-19 infections. They were treated across multiple hospitals in the United Kingdom. The risk of death was associated with older age, male gender, and other conditions. Hypertension, diabetes, obesity and cardiovascular disease were independent risk factors. There was one very encouraging finding. Chemotherapy and immunotherapy, given within the 4 weeks prior to COVID-19 infection did NOT increase the risk of death. Several ongoing studies are looking at outcomes of cancer patients diagnosed with COVID-19 across the country. These data will be incredibly valuable as we continue to care for patients with Covid-19.
While the global pandemic is not yet behind us, patients are still very fearful of the inherent risk of  cancer treatment.  Unknown at this time is the impact of this pandemic on cancer related outcomes. For instance, how many cancers went undetected due to lack of screening over the last 4 months? In breast cancer,  will a delay in treatment negatively affect prognosis? These questions will be answered in the next few years. What is becoming ever more clear is that the administration of chemotherapy or immunotherapy does not seem to be any more dangerous during the COVID-19 pandemic than during ordinary times.